By building on a proven concept — such as efforts to stamp out malaria in Zambia — Rotary's new multimillion-dollar Programs of Scale grants help make good better
by DIANA SCHOBERG and VANESSA GLAVINSKAS | illustrations by GWEN KERAVAL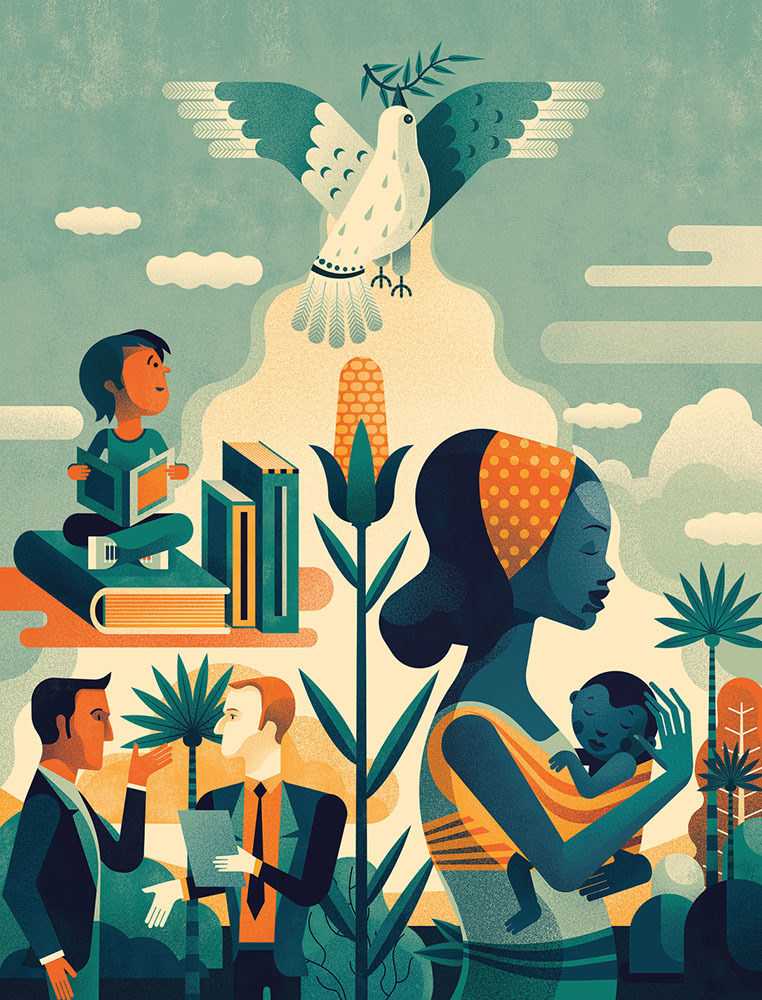 AS PART OF THE POLIO ERADICATION campaign, Rotary and its partners have trained millions of health care workers and volunteers and vaccinated nearly 3 billion children. Polio cases have dropped 99.9 percent since Rotary took up the cause in 1985, and the number of countries with endemic wild polio has dropped to two: Afghanistan and Pakistan.
"What you've done with polio is remarkable," says Larry Cooley, a well-known international development consultant. "But it shouldn't be a study of one."
Rotary is stepping up to that challenge through Programs of Scale, a new Foundation program awarding grants to Rotary clubs or districts with evidence-based interventions that are ready to scale. The first such grant, announced in February, will provide $2 million to Partners for a Malaria-Free Zambia, a member-led program focused on fighting malaria. Co-funders World Vision U.S. and the Bill & Melinda Gates Foundation are also involved in malaria mitigation efforts and will each contribute $2 million to the program. This $6 million program will train and equip 2,500 community health workers in Zambia to support the government's work to eradicate malaria in that country. If all goes well, Rotary members hope to expand the effort to elsewhere in sub-Saharan Africa.
The concept of Programs of Scale dates back to 2013, when global grants, introduced through The Rotary Foundation's updated grant model, expanded the scope and size of Rotary projects with the aim of increasing their impact. After a 2016 evaluation of the grant model, the Foundation Trustees requested that a new grant type be developed that would fund "scalable" grant projects in the areas of focus — meaning projects that were planned in a way that allowed them to be expanded, built upon, and further developed. "Something between large global grants and PolioPlus was needed," says Francis "Tusu" Tusubira, a member of The Rotary Foundation Cadre of Technical Advisers and a past member of Rotary's Strategic Planning Committee.
The Programs of Scale grants are the result: a way to fund large-scale, high-impact projects that can attract partners while tapping into Rotary members' capacity and enthusiasm. "While global grants and district grants have been very successful, we want to give opportunities for projects with even more impact," says Foundation Trustee Sangkoo Yun, who was on the Programs of Scale selection committee. "We want to better quantify that impact and share what we learn with all Rotarians engaged in international service."
So what, in this context, does "scale" mean?
"It's a simple question with a complicated answer," says Cooley, who is an expert on the topic. One way to think about it, he says, is that you are looking for a solution that matches the scale of the problem. If you define the problem in local terms, then the scale of the solution is local. If you define it as international, as with polio, then the scale of the solution is international.
"Problems have denominators," he says. "If somebody said, we helped distribute blankets to 10,000 villagers, I'd say, congratulations, but how many villagers needed blankets? If the answer is that it was 10,000 out of 15,000, I'd say, holy mackerel, that's great. If it's 10,000 out of 10 million, I'd say that's still great, but that's not the right strategy."
Clubs can think about scale whenever they're developing a project, not only when they are aiming to apply for a Programs of Scale grant. Cooley suggests that rather than focusing on projects, Rotarians focus on problems. "Take on a problem and [don't] let go until it's solved, or materially improved, whether at the community or national level," he says.
When thinking about scaling up, Tusubira notes, you can take a successful project and add new aspects to it to deepen the impact. Or you can expand the project to reach more people, as is the case in Zambia, where Rotarians are building on successful global grants and other programs that funded training for community health workers in other parts of the country. The challenge, he says, is figuring out which are the unique environmental factors that are responsible for the success of a project in order to be sure you are scaling up the right things.
By 1 March 2020 — the application deadline for the first Programs of Scale grant — the Foundation had received more than 70 proposals representing programs across Rotary's areas of focus to be implemented around the world. After a rigorous review process, those were narrowed down to a select group, and the clubs involved were invited to submit full applications. A team of Cadre members and staff experts conducted virtual site visits and evaluated the proposals based on readiness to scale up the project, readiness to learn and share results, and how well the clubs involved would work with local communities and partner organizations. Three finalists were recommended.
"I was bowled over by the quality and strength of the applications, and by the expertise and experience of Rotarians on the ground and the connections they have," says selection committee member Judith Diment. "What I really liked about [the malaria project in Zambia] was the partnerships and the collaboration they had established," adds Diment, who is also the dean of the Rotary Representative Network and a longtime polio advocacy adviser. "It had many parallels with the polio program."
Rotary's success in the polio eradication program provides valuable lessons for clubs — not only those interested in applying for a Programs of Scale grant, but those planning any project.
One lesson, as Diment notes, is about the power of partnerships. The Global Polio Eradication Initiative is one of the most ambitious public-private health partnerships in history. "Collaborating with partners gives you a much bigger opportunity for large-scale change," she says.
A second lesson is the need for large-scale programs to grow out of Rotarians' interests. Before polio was adopted by Rotary on a global scale, individual clubs were already tackling the disease through Rotary-funded projects, including a 1979 project to administer oral polio vaccine in the Philippines. Programs of Scale, Tusubira notes, will give Rotary members the chance to come up with ideas they can demonstrate will have a sustainable impact and bring partners to the table.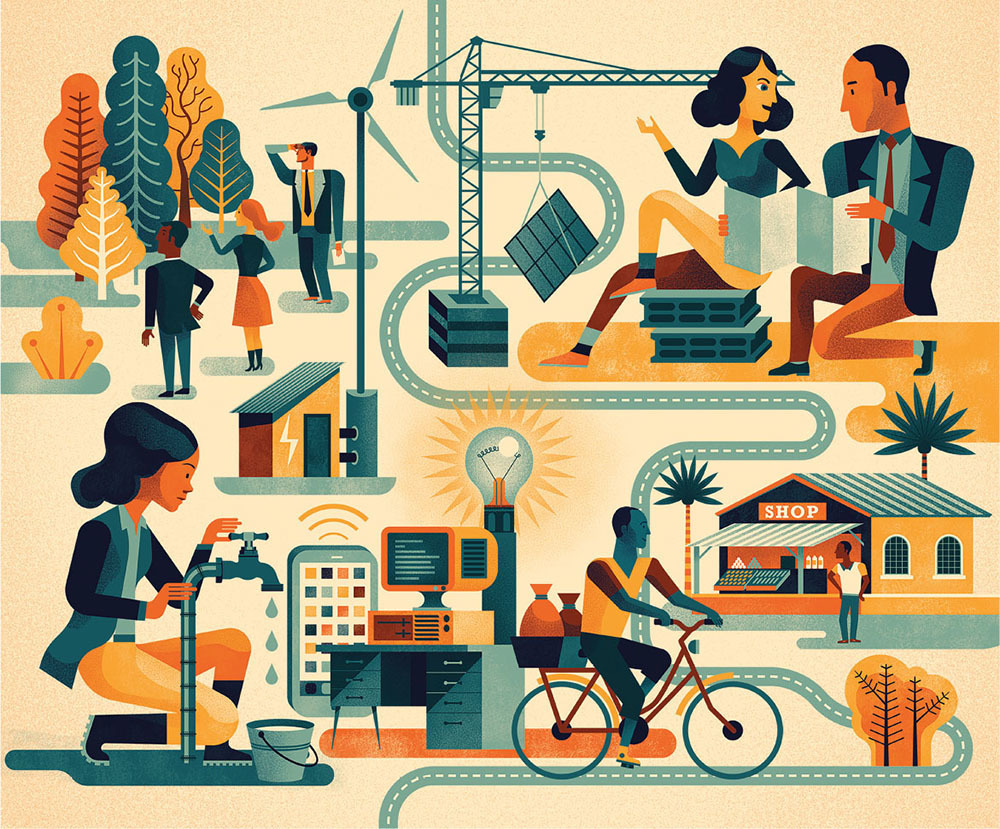 Another lesson is about deploying Rotary's power of networks. Rotarians around the world have used their connections — local, national, and international — to draw attention to and garner support for polio eradication.
Cooley, the development consultant, says he's fascinated by Rotary's potential to scale up projects. "These are the most prominently placed people in a community, all of whom are trying to do something good," he says. "Look at Rotary as an asset. There are lots of problems Rotary could make a big difference on."
The new Programs of Scale grants will give Rotarians a way to do it.
Frequently asked questions
What is a program of scale?
The Rotary Foundation has introduced a competitive $2 million grant to provide Rotary members with resources to implement large-scale, high-impact programs in Rotary's areas of focus while fostering policy development and sustainable programs. The grant will invest in promising, locally led interventions that have already demonstrated success. Throughout the life of the grant (three to five years), Rotary members must work with an implementing partner and be prepared to document the program's success.
Why is the Foundation now awarding a $2 million grant?
To increase our impact. Through this grant, the Foundation will support high-quality, member-led programs that have proven outcomes. Lessons learned will be shared with clubs and districts everywhere to further strengthen our service projects.
What are the attributes of a strong implementing partner?
Implementing partners must have expertise, experience, and program management systems, and must be an active participant in carrying out program activities. Implementing partners may be international or local NGOs, government entities, private sector organizations, or other Rotary entities, such as Rotary Community Corps or Rotary Action Groups. A program may have more than one implementing partner.
Why is an implementing partner required?
Ideally, implementing partners will add value to the program by complementing the strengths of the Rotary members involved. Having a strong relationship with an adept and experienced implementing partner is critical. Also, in the first round of the Programs of Scale process, the Foundation encouraged co-funding from philanthropic, private, and other sources. Co-funding can help increase the number of beneficiaries as well as demonstrate the partner's strong commitment to the program's success. Though co-funding is now required, it does not have to come from the implementing partner.
What is Rotary's role in a program of scale?
Rotary members have a unique role as trusted community members and neighbors, as well as leaders who are globally connected and who are committed to positive change. Whether Rotarians assume technical, programmatic, or advocacy leadership roles, applicants should demonstrate why Rotary members' active engagement is essential to the program's success.
What type of project has the best chance of being awarded a Programs of Scale grant?
The successful proposal will outline a longer-term project that:
Is evidence-based and can already demonstrate success.

Is locally relevant to the intended beneficiaries.

Is ready to grow because it has the right stakeholders and systems in place.

Monitors, evaluates, and shares data.

Employs the unique strengths of Rotary.
Who reviews the applications?
All completed concepts and applications go through a rigorous review by members of The Rotary Foundation Cadre of Technical Advisers, Rotary staff, and other experts. More than 25 Rotary members and staff contributed to the review and selection process for the first Programs of Scale award.