"Many staff have asked, 'When will we be able to be vaccinated?' It was complete sweetness when I could answer, 'now.' It gives light at the end of the tunnel that has taken a year to get through. Covid-19 is so much more than physical illness; it is mental and emotional as well. As a school nurse, the mental and emotional aspect that I have seen and experienced has come from not only students, but their parents and guardians, and from our staff. Working the clinic on Friday was amazing! Each person who came in showed excitement, relief, joy and of course, a few with anxiety, as they took what they feel is the first step to normalcy. A KPBSD teacher and his wife told me, 'We truly felt that the experience was well-run, instilled confidence, and dripped of professionalism both from the staff and toward the patients.'"

–Dixie St John, RN, Kenai Middle School Nurse
Pegge Erkeneff, KPBSD Director of Communications, Community, and Government Relations reflects:
"This afternoon, Friday, February 26, 2021, across the Kenai Peninsula, about 320 school staff received their first vaccine, which will be followed up in three weeks by dose two, on March 19, 2021. Two weeks after that, they will be considered fully vaccinated. Three clinics were happening simultaneously in Seward, Soldotna, Homer. After school hours. At the central peninsula clinic, at old Soldotna Prep school, some thoughts from me:
♥️ Friday afternoon, sleet turns to snow, school nurses, city of Soldotna staff, office of emergency management friends, the local pharmacist, volunteers, all coordinated, and now welcome people who've been showing up for a year to keep teaching our next generation, and schools operating. People who choose to receive their first vaccine dose arrive
♥️ to the right of me the parking lot is full on busy with arrivals and departures
♥️ inside: kindness, trepidation, relief, reflection
♥️ one year ago I could never have imagined this scenario. For me, for many years, this parking lot has been a place of school visits, and stories. Or daily fire briefings at incident command in summer months
♥️ I received Pfizer vaccine dose one ten days ago, so today I showed up to be a witness and storyteller, and celebrate a community of effort
♥️ I stood here, slung my big camera over my right shoulder (first time in nearly 10 months), unzipped my pocket to iPhone catch this snowy sign
…
and walked into a place of hope."
KPBSD Nursing Supervisor, Iris Nurse, RN, BSN, explains:
"Because natural immunity cannot be proven past 90 days except in cases of severe disease, herd immunity will only be achievable when enough people get vaccinated. As with pandemics in the past like small pox and polio, vaccination is a key tool in stopping this Covid19 pandemic. The challenge now is getting people vaccinated quickly, before the virus can produce any more new variants that might be resistant.
Thirty-five of our employees signed up for the vaccination clinic in Seward on Friday. Everyone over age 50 was able to get into a previous clinic.
In Homer, we had about 87 people register for the February 26, 2021, clinic. Several of our school nurses will be staffing that clinic. I sincerely thank South Peninsula Hospital for their excellent effort to vaccinate people, and offer clinics.
In the central peninsula, ten nurses and three other staff will help at the Soldotna Prep clinic. And nurse friends are joining in like Nurse Tami from Public Health, and Nurse Tracy who retired from Soldotna High School, and Nurse Jane from the Allergy clinic. We will have nine vaccinating stations, and City of Soldotna volunteers are assisting in the observation room (everyone needs to stay for a minimum of 15 minutes after their vaccination) helping people to schedule their follow-up appointment in three weeks. On Thursday, we had 197 people signed up for our central peninsula vaccine clinic. Some staff who had signed up were able to receive the vaccination early after 42 doses needed to put in arms by 10:20 in the morning earlier this week. In addition, I have heard nearly 100 staff have had earlier opportunities to be vaccinated.
With the new variants popping in, it will probably take a higher number of people to be vaccinated in order to achieve herd immunity. And, the longer the virus can spread freely, the more opportunity for mutations that turn into new variants. Vaccination, masks, physical distancing, hygiene, contact tracing. That is what is going to end the pandemic. I feel like our school district is significantly contributing to the effort so from the bottom of my little nursing heart, I thank everyone so much for their willingness and support."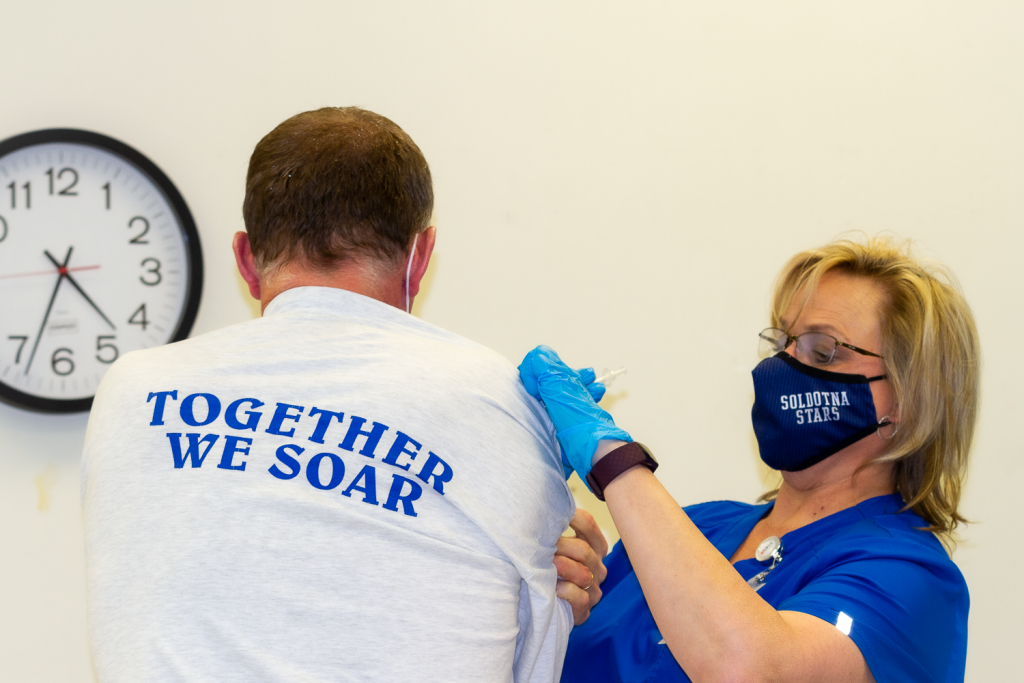 The Kenai Peninsula Borough School District is committed to make it as easy as possible for everyone who wants to receive the vaccine to get it. The KPBSD does not require the vaccine, and is not tracking who has received it, or who has not, unless someone replied to an email last fall indicating that they wanted to receive the vaccine when it became available. The clinics are designed to be offered during times that work well with the schedules for staff and students.
Link to State of Alaska Vaccine information webpage

State website: The COVID-19 vaccine is now available for anyone living or working in Alaska who is age 16 or older. Appointments are limited, but more appointments open regularly. New appointments are often added on Thursdays. Phone assistance is available.

Homer High School Clinic

Central Kenai Peninsula Clinic